Well I figured it's time I started doing my own modding, especially seeing as there's nothing else to do on my days off since I got this fucking cold. For my trip to Sonisphere I need a decent amount of carry space on my bike, enough for changes of clothes, food and drink, and camping equipment. I just bought a set of Altura Arran panniers to sort out the clothing issue, then ran out of space, hence I need a bike trailer.
Now we come across a slight problem, being a cheapskate, I can't afford a bike trailer of any sorts. Some of the most basic trailers are Child trailers but are nowhere near the size of cargo trailers (which is what I actually need). Let's go and have a look at some "cheap" bike trailers:
The adventure CT-1 single-wheeled trailer
- Best price online - £163
The adventure CT-2 dual-wheeled trailer
- Best price online - £128
[spoiler](If you also said "dual-wheeled" out loud just to sound cool, you win an e-cookie.)[/spoiler]
Bumper (near-unknown brand trailer)
Best price online - £101
So getting a cycle trailer seems an expensive business, even the clones from Ebay go for £75+, so it seems, building one would be a better idea.
I'm going to be honest here, this is less a build log and more of a modifications log. Because I am about as ham-fisted as they come, I'll just be getting something that already carries stuff around, and adapting it so it can be used on my bike. The main thing to bear in mind about a bike trailer, is that it has to be attachable to a bike, and you need to be able to ride your bike with it attached, so things with castors as wheels (shopping trolleys, swivel chairs, beds) are out of the question. The fact that I plan on travelling at a decent pace also means that using things with smaller or solid wheels is also off the cards (Goodbye kids' ride on toys, micro-scooters).
So bearing these ideas in mind, I present to you my victim:
(Spoiler for low-bandwidth)
[spoiler]
[/spoiler]
A sack trolley that I acquired off Ebay, brand new for the extortionate sum of £25. (a far cry off £75, wouldn't you say?)
And just to give you an idea of the actual size of this thing:
[spoiler]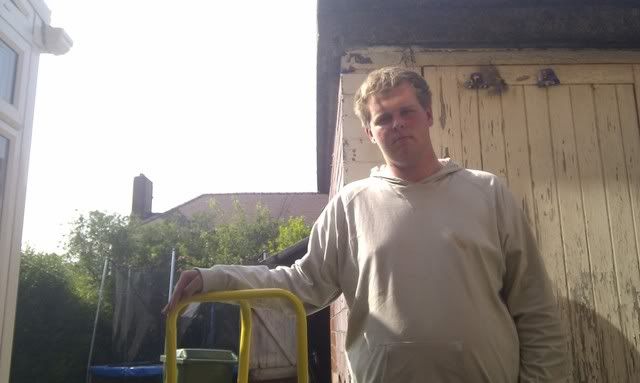 [/spoiler]
Yes, it does come up to my chest, I reckon it's a good 4ft 6" tall, and more than capable of carrying what I need (and maybe a few
not-so-vital supplies
:grin).
Progress to follow when I finally get started